VALO Hotel & Work, Helsinki
VALO Hotel & Work, which is owned by SSA Group, opened in the summer of 2020 representing a new way of retail investing. Housing building specialist company called Sähkö-Virel Oy was responsible for the electrical construction of this project.
Electricity work begun at a full scale in August. Five electricians worked hard on the site of the Hotel which consists of three sections. There are 11 room floors total in A and B sections and in C section are located negotiation rooms and other work rooms. On the construction site everything went almost as planned.
"In a way this site was really simple because it included so many similar installations" says Petri Holmström, forefront electrician from the company Sähkö-Virel. Two underground floors which include parking spaces and civil protection places brought some variety to the work. Also, reception floor including a restaurant on the street level and a relaxing section including five saunas on the rooftop were something different compared to the basic installations.
Electrical designing and planning of the technical details begun one and a half years before getting an access to the site. In that time, it is possible to think about several alternatives and solutions.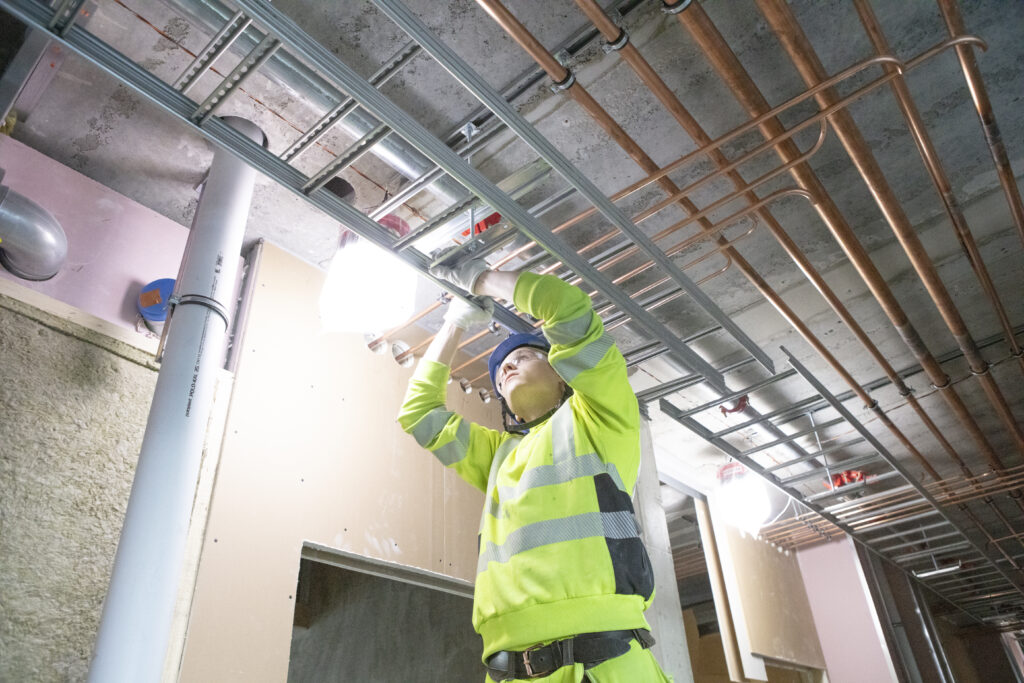 At the site, it was decided to do special installations that you don´t see every day. Acoustics and minimizing sound issues was one of the things that was very thought out. For this reason, no supports were installed on light partition walls.
Cable loading was not very high, and therefore the best choice according to the site´s requirements was KS20 cable ladder. This is the lightest and lowest loading capacity cable ladder of Meka´s whole selection which is designed exactly for these types of buildings. "Even the six-metre-long cable ladder is light to install", comments Petri Holmström. "Because the cable ladder is so light, it can be installed oneself", continues housing building manager Timo Lehtinen from Sähkö-Virel.
"We follow constantly our employees´ occupational well-being. If we can find products that are ergonomic, light and do not overstress of our workers, it will make a huge impact on our decision making" answers Vesa Virkki the CEO of Sähkö-Virel to a question about their decision-making criteria asked by regional sales manager Merja Luostarinen.
Naturally, there are also other influencing factors. "We like to find new products and renew ourselves. This field of business is relatively conservative, so we do research and think about things from different perspectives. Does the product fit for us, is it cost-efficient, what is the availability and is the product made in Finland? Being made in Finland is very important to us, Sähkö-Virel is a key flag company (referring to the marking that shows the Finnish origin of products and services)", lists Lehtinen.
Our salespeople will be happy to tell you more.
Our salespeople will be happy to tell you more.
Suitable products for similar projects
Suitable products for similar projects