Kivisydän underground parking, Oulu
MEKA® in a significant role in the electrification of the Kivisydän, underground parking area
There was quite a bustle around twenty metres below the centre of Oulu in the spring of 2015, as the construction of the Kivisydän car park was progressing swiftly. In the winter, the excavation and concrete spraying of the cave network, named Kivisydän (Stone Heart), were at a point where the installation of technical services could be started, and so dozens of installers began their work.
Choosing Meka as the supplier of the cable support systems in Kivisydän was an easy decision according to Kari Kinnunen, Project Manager at EMC Talotekniikka Oy. 'I have cooperated with Meka since the times of EMC's predecessor, Sortavalan Sähkö, meaning for over 30 years. Cooperation has always flowed smoothly.' Especially with a site like Kivisydän that can present quite a bit of surprises along the way, a familiar supplier is particularly important. Supervisor Antti Tihinen shows the changes and requisitions list they kept on a notebook paper. 'The internet connection is not stable underground, so this has been the easiest way of keeping record of the changes. We took a picture of the paper and sent it to Meka, and new material was delivered on site without any delays.'
Approximately 300 kilometres of cable was used in the 4.5 hectare cave complex, requiring a 15-kilometre tray network. Furthermore, the lighting systems at the car park required 10 kilometres of lighting suspension rails.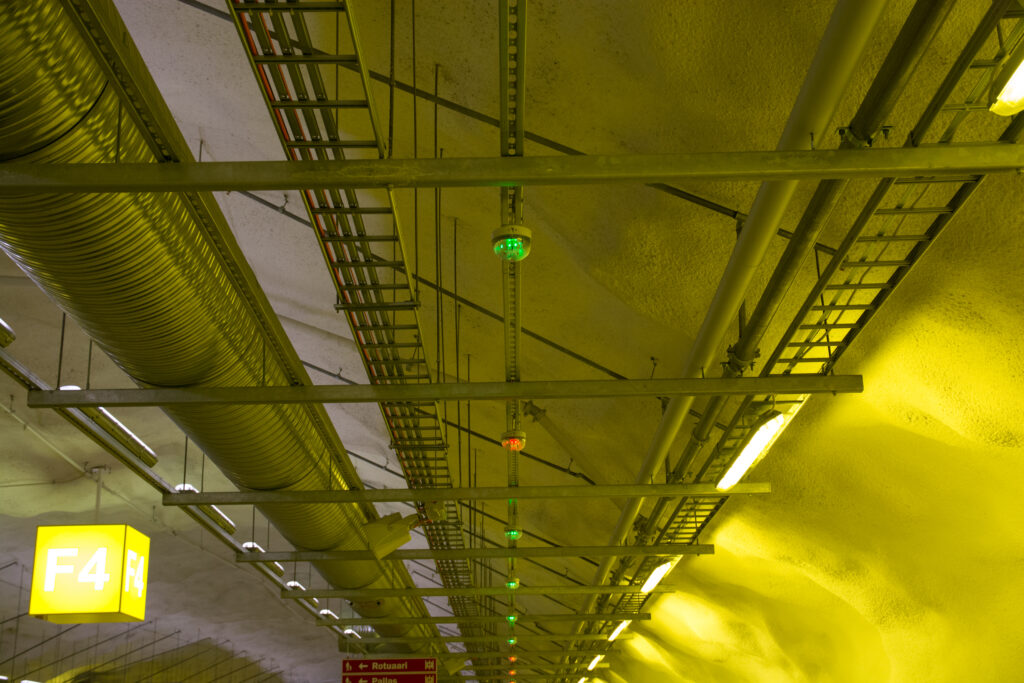 Fire protection standards taken into account
'Due to the fire protection standards, the method of attachment to the rock had to be considered carefully, among other things,' says Supervisor Tihinen. 'We used hot-dip galvanised screws and fasteners.' The fire protection standards were also taken into account when installing supports for the cable trays. 'Our cable trays have been tested at VTT – the fire protection is enough with 150 cm spacing between supports,' says Jyrki Rekilä, Regional Sales Manager at Meka Pro Oy. 'The joint supports of technical services are spaced every three metres here, so we installed our own supports between them. The solution is more than sufficient,' says Rekilä.
Product development was also required
'The red-green indicator lamp above the parking space, telling whether the space is free or taken, was a weird shape. I drew a picture of the bracket we needed and sent the picture to Jyrki Rekilä – Jyrki sent the picture to the product designer and came to visit with a demo version in a couple of days. He asked whether this would fit,' Antti Tihinen grins. 'It did indeed.'
Rekilä says that the requests of a trusted client are easy to listen to. 'It is not rare at all that an idea or development suggestion from the fellows at EMC ends up in production,' he says. 'All feedback from clients is welcome and valued.'
Our salespeople will be happy to tell you more.
Our salespeople will be happy to tell you more.
Suitable products for similar projects
Suitable products for similar projects