INSTAL® cable trunkings shifting to low carbon aluminium
Lightweight and durable cable trunking made with low carbon aluminium
The familiar features of the Instal cable trunkings remain the same, but soon with a 50% smaller carbon footprint. Meka is shifting to low carbon aluminium during fall 2023. The reduced carbon footprint in our product is made possible by the use of renewable energy sources in the manufacturing of the raw material. State-of-the-art technology is utilizes in production, and the manufacturing chain is verified at every step. The raw material can be traced to every batch and is ethically sourced. Renewable energy sources are also relied upon in transportation.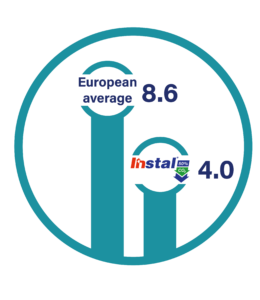 EMISSIONS RELATIVE TO
ALUMINUM USED IN EUROPE
Kg CO2e / kg aluminium
How is the carbon footprint of our raw material constructed:

Our goal is to be carbon neutral by 2030.
The environmental standard ISO 14001 guides our operations, and by choosing raw materials with a smaller carbon footprint, we take responsibility for the environment. We are constantly seeking more environmentally sustainable materials for our products. By choosing Instal products with a smaller carbon footprint, you are making a choice for the benefit of nature.
You can recognize our low-carbon products from this logo on the product packaging
INSTAL® 100 and 130 B available directly from stock
Seamlessly blending into their surroundings, the black-painted INSTAL® 100 and 130 cable channels are now available directly from stock. Our cable channels are an environmentally and qualitatively sustainable, long-lasting choice. The color is black B RAL 9005 – gloss level above 80 units.