Hyväksynnät, testaukset ja sertifikaatit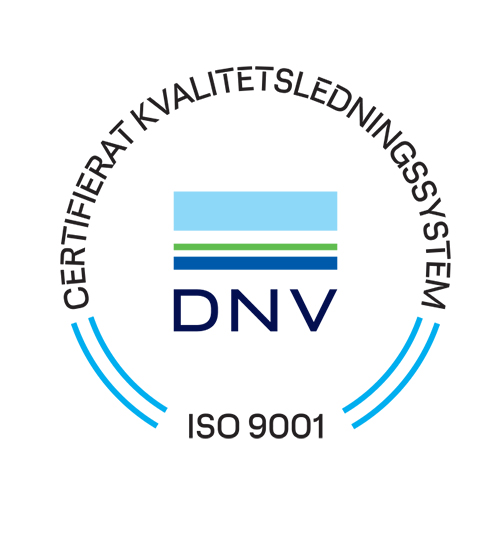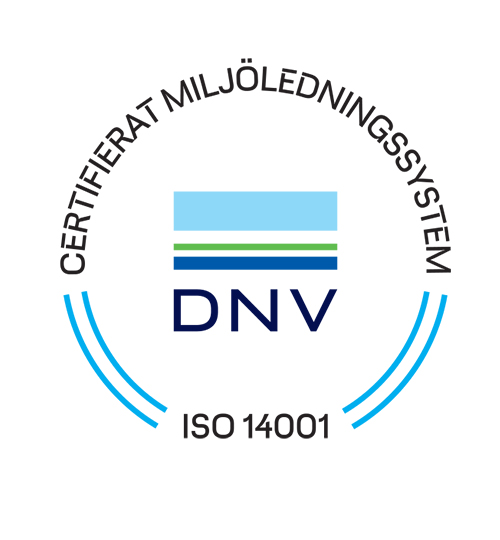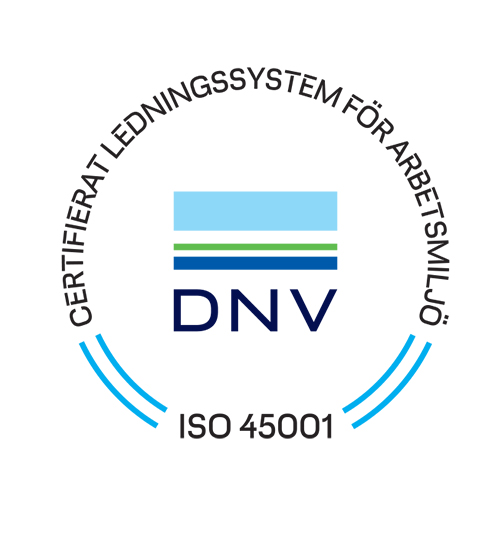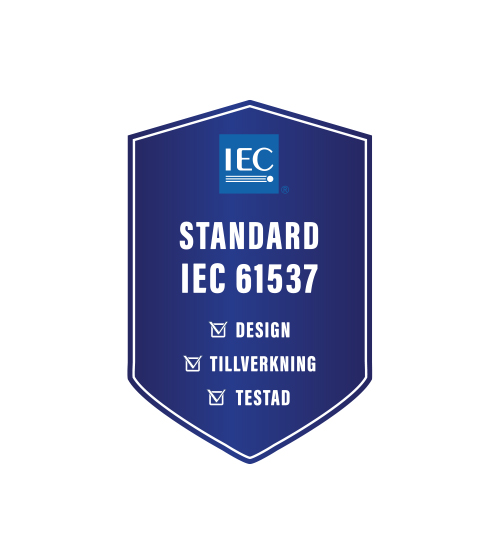 Turvalliset ja sertifioidut tuotteet
Kaapelitietuotteiden ja -ratkaisujen turvallisuus on vastuullisuuden ytimessä. Meka Pro on viimeisten vuosien aikana investoinut huomattavasti tuotteidensa tieteelliseen testaamiseen ja kesäkuussa 2019 Kiwa Inspecta myönsi Meka Pron testilaitteistolle ja sen tuloksille IEC 61537 standardin mukaisen sertifioinnin.
Meka Pro on kaapelitievalmistaja, joka sertifioidusti suunnittelee, valmistaa ja testaa tuotteensa IEC 61537 standardin mukaisesti ja tuoteluettelon tuotetiedot, kuormituskäyrät ja kantavuudet ovat päivitetty uusimman IEC 61537 standardin mukaisiksi.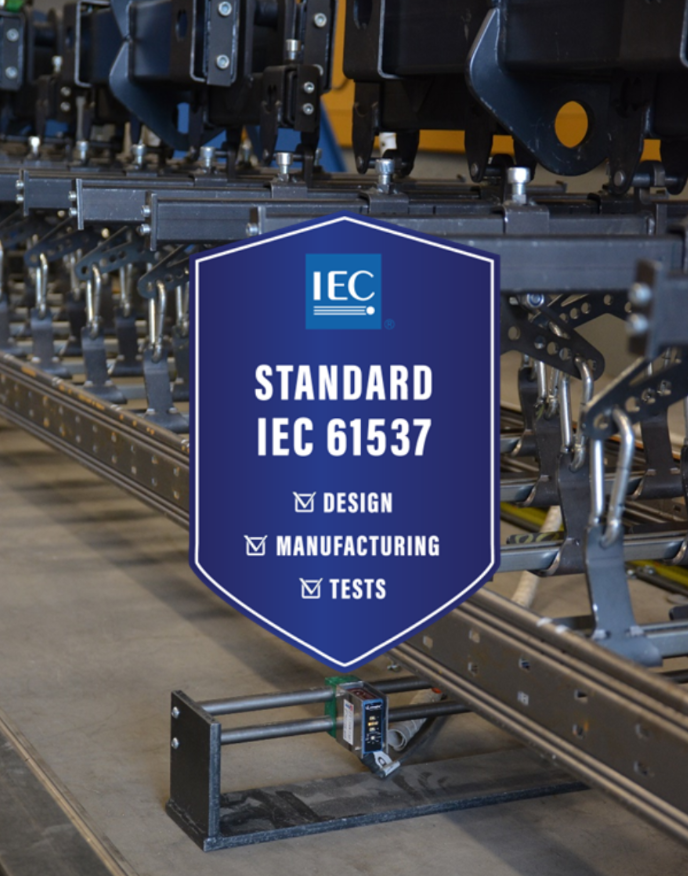 Operation according to standard IEC 61537 ensures that Meka Pro's products and measurement results correspond to reality. The test results are repeatable and comparable with other products measured in a similar way. So our customers know exactly what they are getting.
Reliable measurement results give Meka Pro and Meka Pro's customers the readiness to optimize Cableway solutions exactly according to needs and requirements. In this way, customers can choose the safest and most cost-effective solutions. Lighter solutions, when safety is ensured, also save our customers' costs, the environment and the strength of the installers.
In addition, MEKA Pro's Instal® conduits have the Nordic NCS certificate issued by SGS Fimko, which is recognized not only in the Nordic countries but also in other countries of the European Economic Area.
What does the directive and standard mean
Direktiivi määrittelee vaatimukset liittyen tuotteen vaikutukseen omaisuudelle ja ihmisille, mutta se ei määrittele yksityiskohtaisesti sitä, kuinka vaatimukset täytetään.
Standardi puolestaan määrittelee sen, kuinka vaatimukset täytetään.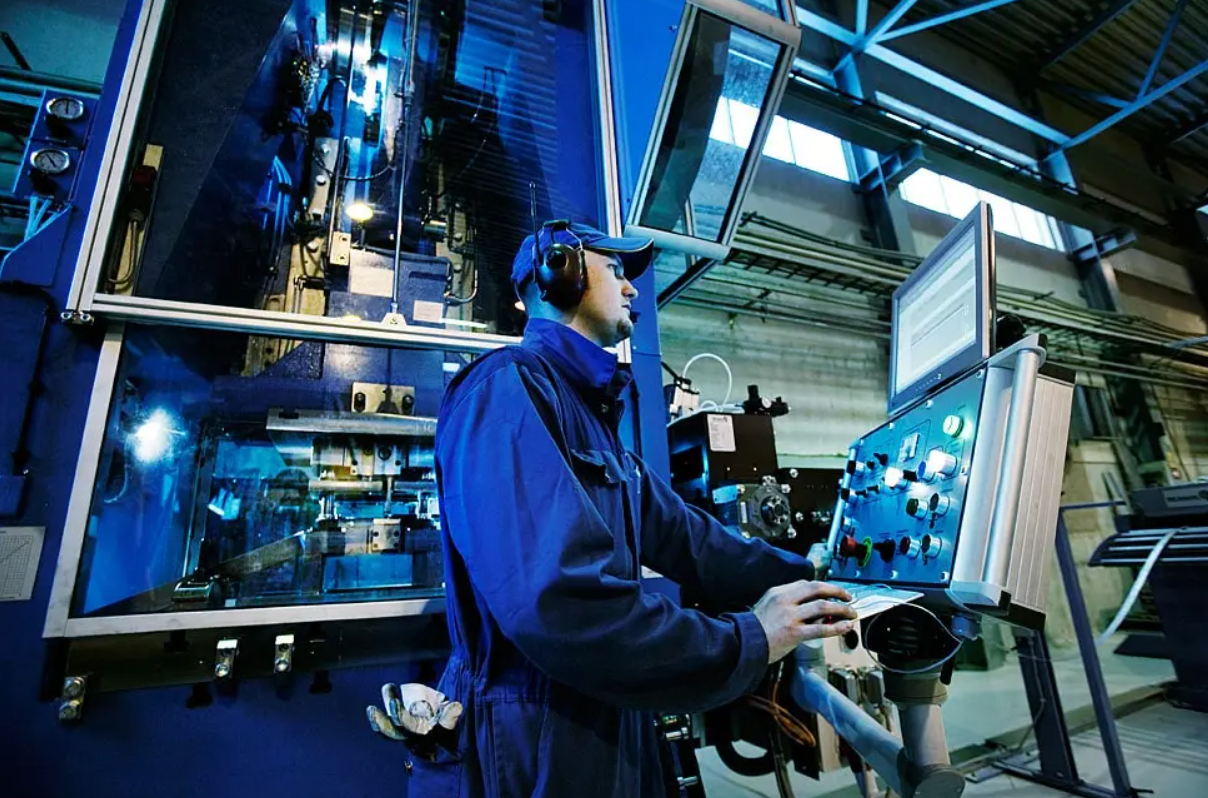 Seuraavat direktiivit koskevat kaapelihylly- ja kaapelitikasjärjestelmiä:
2014/35/EU (LVD -direktiivi), Matalan jännitealueen sähkölaitteen turvallisuus, CE -merkintä.
93/68/EEC ("CE -merkintä"), Käytäntöjä arviointiin ja merkitsemiseen
2011/65/EU (RoHS direktiivi), Tiettyjen vaarallisten aineiden rajoittamisesta sähkö- ja elektroniikkalaitteissa. Kaikki Meka Pro Oy:n valmistamat tuotteet täyttävät RoHS vaatimukset.
2006/1907/EY (REACH-asetus), Asetus kemikaalien rekisteröinnistä, arvioinnista, lupamenettelyistä ja rajoituksista. Meka Pro Oy ei valmista kemikaaleja, eikä maahantuo tai toimi jakelijana kemikaaleille.

EN 61537 , "Cable management – ​​Cable tray and cable ladder rack systems", specifies the mechanical testing of cable trays, brackets and other components. The standard also defines electrical conductivity tests. IEC 61537 is an EU-level Harmonized product standard for cable rack systems.
EN 50085-1 , Conduit systems for electrical installations. The standard contains the structural requirements and tests of the cable duct systems. Harmonized product standard.
EN 60570 , "Lighting contact rail systems", contains IEC requirements for lighting rail and system components. Harmonized product standard.
EN 60598-1 , "Luminaires. Part 1: General Requirements and Tests", presents the general provisions for the classification and marking of luminaires and their mechanical and electrical construction with relevant tests. Harmonized product standard.
EN 60529 , Enclosure classes for electrical equipment (IP-CODE). The standard defines the enclosure classes and codes, as well as presents the requirements and necessary tests.
MEKA® product approvals and certificates
Ladder shelves, record shelves and lighting rails
CE marking , Manufacturer's declaration of conformity that the product meets the requirements of the Harmonized product standards under the directive.
The load capacities of the products have been measured with Mekka's certified test device according to standard EN 61537
The electrical conductivity of the products has been measured either by SGS or Mecca according to standard EN 61537
Meka Pro has tested and continues to test the fire resistance of its products and the Cableway system when the cables are installed and connected in accordance with the fire resistance standard EN 1363-1 used in the construction industry. In all tests, the requirements of the following standards have been followed in terms of temperature and test methods:
EN 834-1

EN 1363-1

DIN 4102-12

GOST-R 30247.1
Nordic Safety Certificate (NCS) issued by SGS Fimko
FI (Finland), S (Sweden), N (Norway), D (Denmark)

The product line meets the requirements of standard EN 50085-2-1.
CE marking
The product line meets the requirements of the Low Voltage Directive 2014/35/EU.

The product line meets

the requirements

of the ROHS directive 2011/65/EU
MEKA® and unipro® manufacturer's insurances and certificates
MEKA® and unipro® manufacturer's insurances and certificates can be found on the Files page